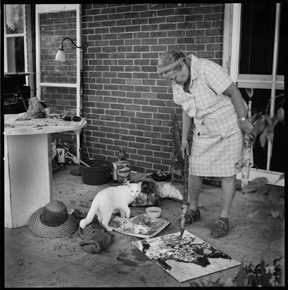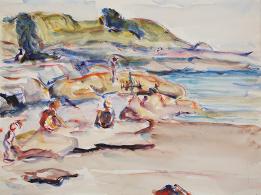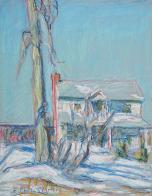 Freda Pemberton Smith CSPWC
1902 1991
Freda Pemberton was a Canadian landscapist and portraitist whose career spanned 8 decades of the 20th century. A prolific painter, she left an extensive inventory of works, many never exhibited during her lifetime. The Skelly Gallery is proud to present to the public a selection of paintings and pastels from this unseen collection.

Miss Smith received her training at the École des Beaux-Arts de Montréal and later in London, England at the Slade School of Fine Art. One of her teachers was Edmond Dyonnet, RCA, who also numbered Jack Bush and A.Y. Jackson among his students.
Her family had reluctantly allowed her to pursue an art career on the understanding that she earn a living at it. In the thirties, however, the Depression put an end to her promising start in commercial art and her work was further interrupted by World War II and service overseas with the Red Cross VAD.
After the War, Freda Pemberton Smith began painting again, but like many women artists of the past century found much of her time was taken up with family obligations. It was only after her mother's death in 1956 that she was able to devote herself fully to her art. She left Montréal in the mid sixties for the Ottawa Valley town of Vankleek Hill, where she made her home until her death in 1991.
Miss Smith was known for her expressionistic style and ability to convey effects of light, mood and movement. Her work has been shown at Galerie Dresdnere, and Kaspar Gallery (Toronto); Wallacks and the Karsh-Masson Gallery (Ottawa); Arbor Gallery (Vankleek Hill); Galerie Dan Delaney Artlenders (Westmount); and Stewart Hall Gallery (Pointe-Claire).
She also participated in group exhibitions held by the Canadian Society of Painters in Water Colour, the Montréal Museum of Fine Arts, the Ottawa Art Gallery, The Thom Thomson Gallery and The Pastel Society of America. Her biography appears in the Colin S. Macdonald's A Dictionary of Canadian Artists and Concordia University's Canadian Women Artist' Initiative: Artist Data Base.