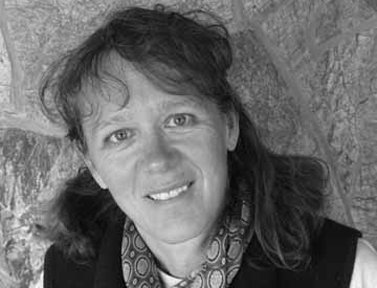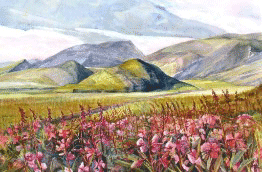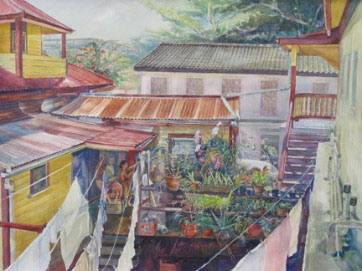 Odile Têtu is originally from Quebec. While attending the universities of Ottawa and Montreal, she studied under the masters Michel Goulet and Pierre Granche. She spent over 20 years in Eastern Ontario, where she co-produced five large murals of local historic value. Têtu's detailed watercolour-on -silk studies of insects and birds have been exhibited at the botanical gardens of Montreal, the Frederiksberg Botanical Gardens in Copenhagen, Denmark, Cornell University's Sólà Gallery in Ithaca, New York, and Saint Francis Xavier University's Art Gallery in Antigonish, Nova Scotia. Her work has been praised for both its scientific and artistic qualities.
For five years in the 1990s, Têtu was annually awarded the grant to be part of the "Artists in School " program of the Ontario Arts Council. Travelling from region to region in francophone communities, she coordinated and facilitated the production of permanent art works in the schools. Hundreds of children aged 5 to 16 years participated in the making of theses murals.
Têtu now lives in Georgeville, Antigonish County, Nova Scotia, from whence she paints Atlantic Canada's landscape in oil, watercolour and etching and teaches drawing at Saint Francis Xavier University. She has been a member of the Society of Antigonish Printmakers (SOAP) since 1996 and is now member of the Nova Scotia Printmakers Association (NSPA).
Since 2005, Têtu travelled across Canada from Newfoundland-Labrador to Inuvik, north of the Arctic Circle n the Northwest Territories. She is inspired by the strength and beauty of nature in the midst of human endeavours. She recently travelled in Belize, Central America where she visited modern Mayans communities and shared some time with them.
Odile Têtu's exhibition at the Skelly Gallery will show a breadth of her work. It will include landscapes of Canada and portraits of people from Belize. A group of intimate etchings produced in studio over several years will also be on display.
Née à Rivière-du-Loup, Québec, Odile Têtu étudia les arts visuels à l'Université d'Ottawa et de Montréal. Elle vécu plus de 20 ans dans l'Est Ontarien ou elle coproduit cinq murales d'interêt historique dans les rues de Vankleek Hill dans le comté de Prescott-Russell Ses œuvres peintes, aquarelles sur soie détaillant finement des insectes et des oiseaux locaux ont été exposées au Jardin Botanique de Montréa ainsi qu'au Jardins Botaniques de Frederiksberg à Copenhague, Danemark, à Sólà Gallery à Ithaca, New York et à la galerie de l'Université Saint Francis Xavier à Antigonish, Nouvelle-Écosse.
Dans les années 90, Têtu participa au programme Artiste dans les écoles du Conseil des arts de l'Ontario. Voyageant de à travers la province dans les communautés francophones, elle facilita la production d'œuvres murales permanentes dans les écoles. Plusieurs centaines de jeunes agés de 5 à 16 ans participeront en peignant ces œuvres monumentales.
Têtu vit aujourd'hui à Georgeville dans le comté d'Antigonish en Nouvelle-Écosse. Elle peint le paysage maritime qui ne cesse de l'inspirer par sa beauté. Ses médiums sont l'aquarelle, l'huile et la gravure. Elle enseigne le dessin à l'Université St Francis Xavier à Antigonish et est membre de la Nova Scotia Printmakers Association et de la Society of Antigonish Printmakers (SOAP).
Depuis 2005 Odile voyage à travers le Canada du Labrador aux Territoires du Nord-Ouest et peint le paysage canadiens s'inspirant de la force et beauté de la nature au milieu de l'activité humaine. Ses paysages sont à la fois réalistes et impressionnistes. Plus récemment elle voyage à Belize ou elle fait connaissance avec la culture Maya et s'inspire des beaux visages rencontrés au passage.
L'exposition à la galerie Skelly presentera un ensemble de ses œuvres incluant paysages canadiens et portraits de Mayas Beliziens. Une série de gravures produites au cours des dernières dix années sera aussi en exposition.