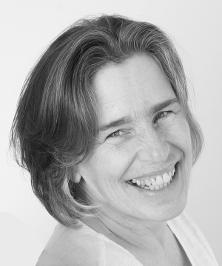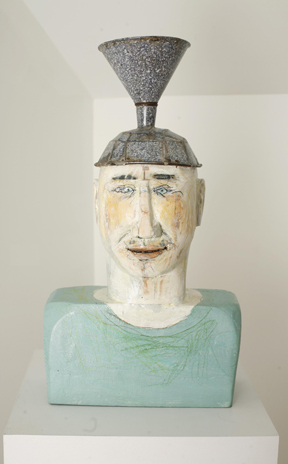 As a sculptor I am interested in the creation of new forms and the three dimensional tactile pleasure of a finished work. I like exploring unconventional materials. I'm interested in gesture and humor. My figures are human or animal or both.
My work starts with collecting. My best haunts are old county dumps. I collect objects that has been cast away. A rusted out old pot. A square head nail. It's like shopping but free. The wood I use is driftwood and old furniture pieces. I use old cow bone. Soapstone. Old tools. Everything. Sometimes a friend will put a piece of something in my hand and express the hope that I can use it. Not only is my community embedded in my sculptures but my work also signifies time for me by recording particular experiences and stories. It does satisfy me to some small extent that instead of using more or our planet's resources I'm trying to use up an infinitesimally small amount of what we already have. Some of my sculptures take months to complete so where the discard was instantaneous, the rescue and transformation is long and involved. More than anything, the dissembling and reassembling satisfies my soul. I think it's probably a very personal gratification. I'm addicted to process even at the risk a piece doesn't work out. My materials are unforgiving in that I can't reshape easily but that's where the excitement lies. In not knowing how something will turn out. Each piece is different. There's always a challenge.
My sculptural process is one of addition, rather than subtraction. I build up forms by adding and then I grind away. It's a continuous, long and messy process that was born of accident years ago. Lately I have been cutting up old enamel pots and using a mosaic process over a rough wood form to build up my sculptures.
I work from my sketches. I certainly leave room for accidents to happen in the studio but I like the sketching. I like to have a good idea where I'm going before I start a piece. I like the idea of working with an old form, like an old pot and transforming it to a new form. It's a challenge to make something out of nothing. I believe artists are guided somewhat by their materials.
I studied at the Nova Scotia College of Art and Design and though I have joked that it has taken me thirty odd years to recover from the experience, there is only a bit of truth to it. I think all the experiences we have as artists give us context and experience although somewhere along the line I discovered the truth that I work alone in more ways than one. My art experience is solitary in terms of exchange but I continuously study art in a very pop culture kind of way. I devour art magazines and go to galleries whenever I can.
I don't know what kind of art I make. I work on a more emotional level and a base one at that. Sometimes my work makes me laugh. Sometimes it's the juxtaposition of found objects that make the humor. Sometimes it's a pose.
I've been asked to give lectures on humour in art and I'm quite fascinated with the subject. It's not something you can plan. And it's contrary to the perception that art has to be serious to be taken seriously. I work until I please myself and if I have an audience, all the better. Audience for me is very important. I'm interested in uncomplicated art that doesn't need a lot of explanation to understand.
I live for the times when a new idea is born. It's exciting. I'm also happy when the kinks in a piece have been worked out and I can just indulge in the process. I have a tiny studio where everything is in my reach. My tools. My machines. All my junk. The walls are collaged in magazine clippings of my favorite work by other artists. I have an ipod with my favorite music and I work like a dance. I move, move, move.
I seem to be heading away from the bird/human figures but not entirely. Lately I am very interesting in sculpting portraits/heads. I can't watch TV now without getting completely distracted by the structure of the human face. I'm interested to see where this leads me.
I was born in Vancouver, British Columbia and for a great part of my life I moved frequently until settling near a small French town, St. Eugene, Ontario on the Quebec border.